DJ_Premier_and_Bumpy_Knuckles-StOoDiOtYmE-2012-UC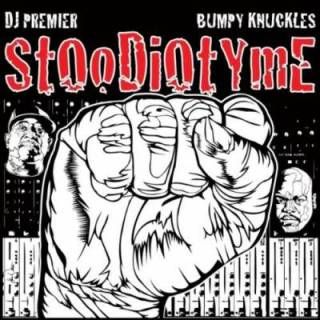 The new
Bumpy Knuckles/ DJ Premier collab
drops this coming Tuesday. It's been a long wait for the album, and I can tell you it was totally worth the wait. I've had an advance copy of the
Kolexxxion LP
for some time now and it is getting a ton of spin in my Iphone. Support that real grit and pre order the album
here
. I couldn't help myself and had to post this little preview. Also know that the song '
BAP
', the first single off the album was made for
Jay-Z's

Blueprint 3
, but was sent in too late. I wish I had those problems as a producer, damn. Enjoy.
01. Stoodiotyme [02:41]
02. Fake [03:12]
03. That Preemo Shit [02:55]
04. TakeIt2TheTop [02:51]
05. Inspired By Fire [02:05]
Download "
stoodiotyme
"
Copywrite-Workahol-VIDEO-2012-MBD

Man Bites Dog Records
are proud to present the offical music video for Copywrite's "Workahol" song off of his new album
God Save The King
. Song is produced by
Stu Bangas
. Video was shot and directed on location in South Africa by Tumi Motang (tmotanster@gmail.com for inquires). Please support underground hip hop and independent music by buying this album today.
Cop the new Copy album
here
.
Curren$y-Upcoming_Albums-VIDEO-2012-UC
Hardknock TV caught up with Curren$y at SXSW for a Q&A segment. Spitta speaks on performing at SXSW, how he linked up with Styles P to release #The1st28 EP & his upcoming
Stone Immaculate
project, which he hopes to have out by June. Watch the interview up above and be on the look out for another EP from Spitta, this time around, the New Orleans native will release the project with producer Harry Fraud. I told you not to sleep on Lamusica De Harry Fraud.


Gensu_Dean-Forever_feat._Large_Professor-CDS-2012-UC
The latest video "Forever (feat. Large Professor)" from Gensu Dean's debut album "Lo-Fi Fingahz". This was directed by Calvan Fowler for DayDream Film Works. 2012. Gensu Dean is on the come up and has more projects with people we all know in the works. In the meantime you can grab his album on
Itunes.
If you are a vinyl collector like myself, head over to Fatbeats or click on the banner below and grab the limited electric blue edition of it.
Download "
forever
"
"see ya, and I wouldn't want to be ya" -nino