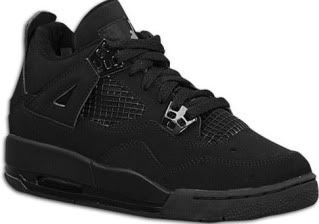 AIR JORDAN IV
(Black Cat Edition)
I have to send a special Thank You to my man Fatrock for hooking me up with these the last time he came up. It was so unexpected. I knew that he didn't like black kicks and remembered that he had these in his collection. So I told him to toss them my way, never thinking that it would happen. It's good to have friends that take care of each other. Before I even knew he had brought them, I tossed him a pair of Adidas Originals sunglasses that made him look like Paul Castellano. He brought these in and handed them to me and said "thanks for helping me and hooking me up with music everytime I come up." Free of charge. I just hope he remembers this blog post when he is ready to get rid of those Olympic 9's he is sitting on. Either way, these are gonna look dope when I drop some grey laces in them and throw on the crazy classic Compton Oakland Raiders hat.
MAKING THE BAND
I was one of the first cats to post the "Bed Intruder Song" on my blog,(go wan ahead and check if you don't believe me) before it became a crazy viral video. Now I bring you the dope ass Aggies rendition. There is also a live version they did live on TV and the chicks they got dancing definitely got ass. This one has way better sound quality.
SAMPLE EVERYTHING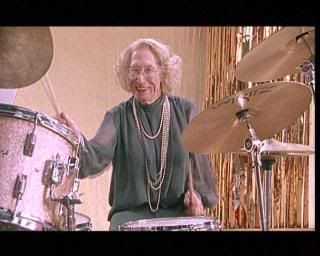 Last night I performed for the Northern Lights Holiday Party and came upon a record that still today is one of my favorite songs to date. My man Extract who used to run the RPM dept. at SUNY Oneonta put me up on this group before they became popular worldwide.
The Avalanches
are an electronic music group from Melbourne, Australia, best known for their live DJ sets and debut album
Since I Left You
, which was assembled from approximately 3500 vinyl samples.
The Avalanches began in 1994 as Alarm 115, a noise-punk outfit inspired by The Animals of Steel, Drive Like Jehu, The Fall, and Ultra Bidet. The band (Darren Seltmann, Robbie Chater, Tony Diblasi and Manabu Etoh) bought all their instruments at junk shops, where they also discovered piles of old records. When Etoh was deported and Alarm 115 ended, those records became the core of a new project. They officially became The Avalanches at their fifth gig - a support slot for Jon Spencer Blues Explosion - and rose to prominence quickly. The Avalanches' profile grew with support slots on tours by the
Beastie Boys
,
Public Enemy
,
Stereolab
and
Beck
. The band also played at the Tibetan Freedom Concert at Homebush, Sydney. James De La Cruz was added to the live lineup on turntables and keyboards, and made his debut with the band at The Palace, St Kilda, supporting Public Enemy.
Modular released the
Electricity
EP in Australia (12") and the UK (7"), while work continued on an album, under the working title
Pablo's Cruise
In February 2000 the band finished mixing the album at Sing Sing studios, Melbourne. By July, with the album, now titled
Since I Left You
, overdue, Chater's
Gimix
cassette was made available. It is a mixtape blending previews of the forthcoming album with some of the band's favourite songs. The initial album launch date on 11 September was delayed, with the record hanging in limbo due to sample clearance and overseas interest. An early 2001 worldwide release was hoped for, although a 27 November Australian release was confirmed a few weeks later. The first Australian single, "
Frontier Psychiatrist
", was released in August. It reached #6 in
Triple J
's 2001 Hottest 100 countdown, the world's largest annual radio music poll. In October 2000 the band undertook their first Australian headline tour, hitting all capital cities.
Grab the song
that made them famous. There is also a crazy video that dropped along with the limited edition promo I got in college. Another fun fact that not many people know about this record is that it is the ONLY group that Madonna has ever cleared a sample for. Oh, and don't even think about jacking this, I've already stole the horns and have two songs completed that will be dropping in a week. Don't be a biter, and don't be lazy, be original.
Stay tuned to @UNITEDCRATES and the blog to find out whats shakin....
#Now Playing 07-The_Vinylcologist-The_Fleetwood_Mack-UC
C-YA