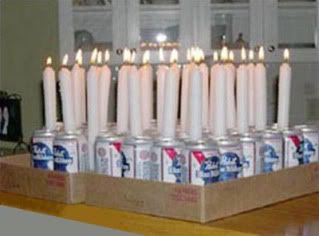 I just wanna give a big blogger shout out to my brother.
Happy Birthday
homie. We built you this cake. You know, like Pedro from Napoleon Dynamite.
Take a few sips for me, and a few more for the Smogman who is due out of the joint on Feb 14th. Thank God. 2011 is gonna be a good year for bashing these tight jean douchbags with that real underground butter.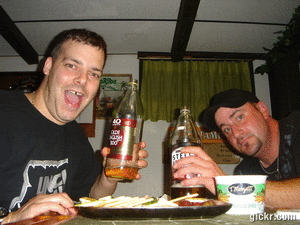 Cheers my man. Fuck the Sizzurp, 40's and Blunts all day ninja.
F'REAL F'REAL
My homie
Davey West Side
put me up on this shit and it's local. This was recorded at Northern Lights last year about this time. The best part about it though is that it is all true. I'm just glad to know that I'm not the only one hating on these fuckin' fools that think their shit don't stink (pun intended). Listen to the dude screaming Lil' Wayne and tell me that Redman isn't still the gulliest muthafucka you know. This show was crazy I heard and the next time they come, you better believe I'm jumping on that guest list.
Good looks D.
I also have some inside info on a few new Wu releases that are currently on the table.
Raekwon's
new
album
Shaolin Vs. Wu-Tang
is finished and ready for release. He just released the official tracklisting via the twitbox.
Check it out:
1. Shaolin Vs. Wu-Tang
2. Every Soldier In The Hood (feat. Method Man)
3. Silver Rings (feat. Ghostface Killah)
4. Ferryboat Killaz
5. The Scroll
6. Masters Of Our Fate (feat. Black Thought)
7. Rich And Black (feat. Nas)
8. Butter Knives [Prod. by Bronze Nazareth]
9. Crane Style (feat. Busta Rhymes)
10. Chop Chop Ninja (feat. Inspectah Deck & Estelle)
11. From The Hills (feat. Method Man & Raheem DeVaughn)
12. Last Train To Scotland (feat. Lloyd Banks)
13. Rock N Roll (feat. Jim Jones, Ghostface Killah, & Kobe)
14. Molasses (feat. Rick Ross & Ghostface Killah)
15. Dart School
16. Snake Pond
17. Wu Chant (Outro)
I heard a few snippets of this and was really impressed. Rae has yet to let me down. His
Vatican Mixtape Series
and
Cocainism Vol. 1 and 2
are also a must have for any Raekwon follower. Get them If you haven't already, you'll be glad you did. Here's the first leak off that album. Produced by Scram Jones, this shit is pure HEAT! Download it if you like by clicking the down arrow on the Soundcloud player.
Gza
is said to be working on
Liquid Swords 2
, which will be
entirely produced by The Rza
. As soon as I get a leak off that you better believe it will be posted.
The final project that I am patiently waiting on is called
Wu Block
and is a collaboration between two of my favorite emcees,
Ghostface and Styles P
. This is going to be crazy when it drops. No word on production credits yet, but you know as well as I do these guys never rock over trash beats.
Recently I've been obsessed with vintage gear and anything old that has to do with music. I currently own a Wurlitzer 200B that is absent on leave getting repaired and my dad just gave me and old light box from the 70's that he used to use playing gigs. It works off the vibration from the audio and lights up different colors based on how hard the vibrations are.. That shit is dope and so is this.
Beem
is Electronic Music Producer Skweee from Stockholm, Sweden. Beem has created these absolutely amazing Lego creations inspired by vintage synthesizers, drum machines and recording equipment. When I saw these, the synth geek inside me totally freaked out. Not too mention that I've always had an obsession with legos. I heard that these are being used as a series of covers for a new album he has coming out.
A Fender Rhodes 12 and a Revox B77: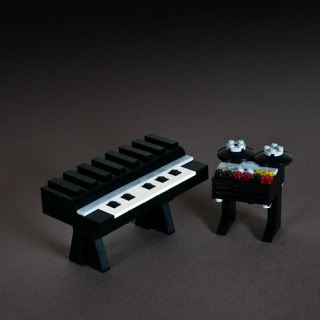 Linn 9000 Drum Machine patched into a Revox B77 sitting beside a Roland SH1000: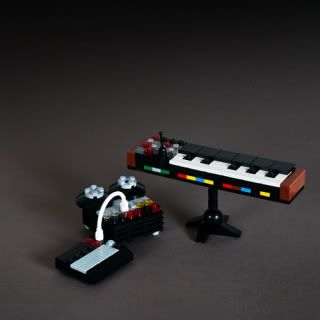 This one is a Juno 2 with the alpha dialwith patch cords,
a Roland SH1000, a Mac SE and a Revox B77: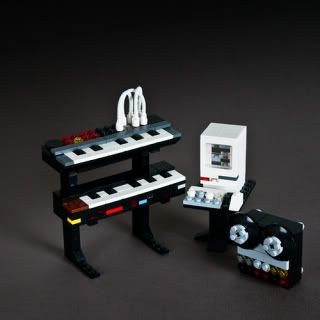 This image is an Arp Odyssey beside a Linn 9000 drum machine.
And finally this one is a Roland SH1000, a Linn 9000 Drum Machine and a uniquely semimodular Prophet 5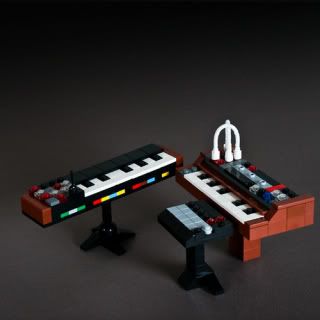 I recently got a
Roland SH1000
from a friend that I know that fixes just about anything. He just fixed my Budwiser True Music Neon sign and brought it back to 100% working order. Papa Nucc is currently using the SH1000 for shows and for some stuff on his new album. Go check him at a show and see what all the hype is about. I know he has a show with J-Live coming up and I'll keep you posted on that as soon as I get the flyer.
LAST LAUGHS
Magic beat the HIV and LeBron enjoys being hated by everyone in Cleveland.
Till the next post. Stay Cheezin.