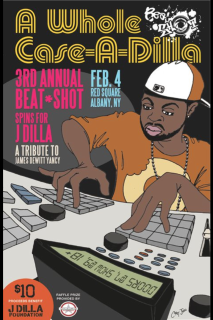 Be sure to check out
J-Live
,
DJ Trumastr
,
Lofi Lobo
, and the rest of the gang at the 3rd annual Beatshot Music Tribute to one of the greatest producers that ever touched a sampler. Beatdown Collective's own
Papa Nucc
will be playing live behind J-live with other special guests. I woudn't say I'm special, but I may have to actually show up to this one. I'll be playing A Tribe Called Quest's "The Love Movement" instrumentals on my way down in the whip. See you there.
ILL BILL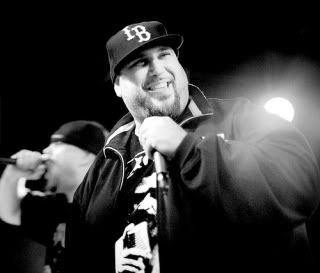 and...
VINNIE PAZ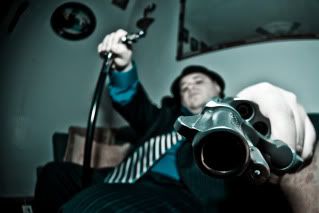 are...
Heavy Metal Kings
.
The new album featuring two of the most followed underground artists of our time is due out April 5th. Be sure to check it, The album will feature production from Ill Bill himself, Gemcrates (a DJ Premier protege), DJ Muggs and upstate's own
Jack of All Trades
. I recently spoke with Ill Bill via twitter and he said that there will be more to come in the near future from the two. Check out the official site:
HMK
Here is the first leak off the album produced by C-Lance
Ill_Bill_and_Vinnie_Paz-Keepers_of_The_Seven_Keys-CDS-2011-UC
Download the Leak
SUNDANCING
Michael Rapaport
just debuted his highly anticipated documentary
Beats, Rhymes, Life
based on
A Tribe Called Quest
yesterday at The
Sundance
film festival. Two years in the making, it features rare an unreleased footage and images of one of hip hops most influential groups. I still remember jamming out to The Low End Theory at the age of 14 riding the bus to school. Back when it was tapes and Sony Sports walkmans., We used to have guys open them up and increase the volume so we could get some more "umph" for our buck. People were airbrushing jeans and CDs were for the rich being the newest audio medium to hit the streets. Before people were buying touchscreen IPODs and Beats by Dre headphones for $200 a pop, there was Radio Shack/ Realistic Nova Headphones for $40 and you were chillin if you had auto reverse. That was when if you were lucky, the tapes you were listening to had a great songs all the way through. If not, you'd flip the tape, fast forward a bit and get to another song you liked rather than wait for it to come all the way around again. Do I dare say that those were the days....nah, like Fatboy Slim..."We've come a long way, baby."
From what I hear the film was well received, and The Roots tore it down later that night at Harry O's.
Here's a clip.
@SKULLCANDY
AFTER PARTY (snip)
The WOLF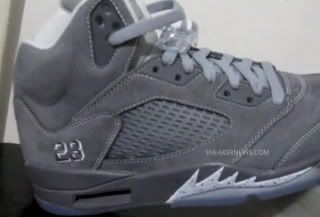 As you all should know by now I am a dedicated sneakerhead. My closet is overflowing with boxes, laces, and unworn freshness. Even though I am unemployed I still manage to get my hands on the joints I want. Sometimes I trade, most of the time I buy. The one gripe I have with The Jordan Brand is that I will never understand why they won't just leave good enough alone. Take this Jordan V for instance. One of the greatest sneakers ever made in my opinion. I have these in 10 different colors. That being said remember the sneaker collectors rule of thumb: One to stock, One to rock. Tinker Hatfield was a genius in his own mind, not to mention the minds of all sneakerfreakers across the planet. He had a hand in designing all the Jordans up to the 13. Anything after that is pure shit, for real. When a company like Nike/Jordan knows that the demand is high for certain colorways and numbers, why not keep doing what you do and make money money. Instead they've come up with a perfectly good way to ruin their company/brand. Ever since the invention of the mashup sneaker I've been appalled by the idea of sneakers in general. They mixed a few with the Air Force 1, which I refuse to own. I have over 70 pairs and not one of them is the Air Force 1. Don't believe me, look at my feet every time you see me and make a mental note of what I'm rocking. Nothing against, Jay-Z, Fuck Nelly though, but why is everyone obsessed with this sneaker? It's uncomfortable, ugly, and skuffs the first time you drag your feet or step on a flea. I'll never understand it. Another thing I'll never get is the creation of one of the most ugly sneakers in the world. The Spizike' named after Spike Lee and MARS Blackman, it is a mash up of like 6 different pairs of Air Jordans in one design. In my eyes this was a complete waste of time. Sneakerfiends worldwide, including myself used to wait on the next style to drop, now we all could care less. I'm sure they are seeing it, being that the economy is bad, and you can find these at Marshalls a week after they come out. I'm speaking for everyone when I say FUCK THE MASHUP!!!! One thing I am glad about though, if they were coming out with good shit, i'd be bummed because I can't buy the way I used to. These V's will be the only pair I buy this year and if you want to see more of how Nike is continuing to suck ass, just look at their release list for 2011.
HERE
Curtis Wackson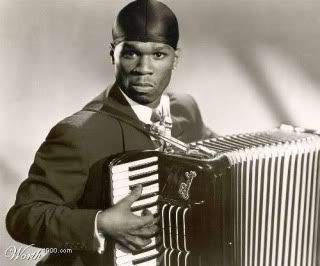 Our good friend
50 cent
recently won a 2 year legal battle with the site World Star Hip Hop over unlicensed images and had the site shut down. Good luck with this one duke. Two years is a long time.
Cripple Cake Drake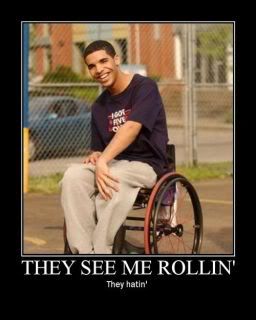 Rollin on dubs. Heartfake Flake should be his real name.
RAP - LIES = HIP HOP
recognize.
That's all for now fam, I'm about to get into smashing Jack Daniels and making the toughest beats you will never hear.
One more question....
Is anyone fucking with United Crates this year?