Mobb_Deep_X_NY_Knicks-Knicks_Tape-2012-UC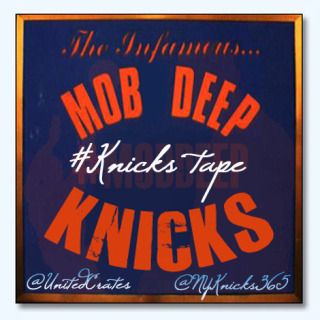 MobDeep KnicksTape (@NYKnicks365 & @UnitedCrates) by gm518630

Here's a quick mixtape GM and myself threw together to help support The NY Knicks through the playoffs, hopefully this will give them and their die hard fans some motivation to

#RiseUp

. There are great Knicks snips and classic highlights all throughout the mix. This version is all one track, but I will be releasing a tracked out version of this without the Knicks dialog. This will be for some of you who just want a new Mobb Deep mix to bump in the whip or Ipod this summer. Some rarities along with some classics. The tracked version will drop as a prequel to Sunday's game against the Miami Heat.

Tracklisting is as follows.


01 Shook Ones (Vinylcologist Blend) 04:00
02 Back at You 03:08
03 Killaz Theme Feat. Cormega 03:26
04 Stretch and Bobbito Freestyle (Circa '94) 03:25
05 Hold Down the Fort 04:08
06 Hoodlum Feat. Big Noyd and Rakim 03:50
07 Chinese Marines Feat. Raekwon 02:26
08 The Illest 03:55
09 Get at Me 02:57
10 Neva Goin' Back 03:17
11 Heat Feat. Recordkingz 03:03
12 Clap! 04:17
13 World War 3 02:25

Download it off the soundcloud widget. Up top.

Enjoy.