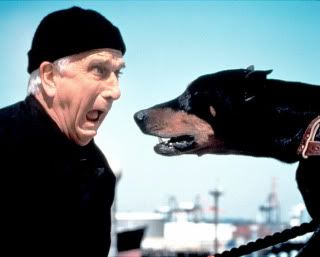 Leslie Neilsen R.I.P.
The star you know well from his roles in movies such as
Airplane, The Naked Gun Series, Wrongfully Accused, Spy Hard, and The Bad Golf Instructional Videos
has passed away this morning.
"Surely, you can't be serious.... I am serious, and don't call me shirley."
He died from complications of pneumonia in his home in Florida. A say day in comedy for sure. I may have to break out the Naked Gun Box set and pour some out for my homeboy. You will be missed. Drebin.
Check this clip featuring John Walsh of America's Most Wanted. This is taken from the movie
Wrongfully Accused
. Purely classic. I laughed so hard I farted when I saw this clip.