Frank_The_Butcher_and_Jack_Frost-More_Fiya_(Classic Reggae_Vol._2)-2012-FTB
01. Bob Marley – redemption song
02. Black Uhuru – sinsemilla
03. Third World – 1865 (96º in the shade)
04. Culture – Two Sevens Clash
05. Bob Marley – Forever Loving Jah
06. Barry Brown – Thank You Mama
07. Tristan Palmer – Entertainment
08. Culture – See Dem Ah Come
09. Half Pint – Greetings
10. Super Cat – Under Pressure
11. Johhny Osbourne – Rock You Tonight
12. Yellow Man – Mad Over Me
13. Peter Tosh – Burial
14. Yellow Man – Gun Man
15. Sammy Dread – Rude Boy
16. Lone Ranger – M16
17. Junior Byles – Fade Away
18. Gunshot Interlude
19. Anthony Johnson – Gun Shot
20. Frankie Paul – Worries Inna Dance
21. Frankie Paul – Kushenpeng
22. Michigan & Smiley – Diseases
23. Cocoa t – I've Lost My Sonia
24. Anthony Red Rose – Tempo
25. Johnny Osbourne – People Are You Ready
26. Josey Wales – Leggo Mi Hand Gateman
27. Shinehead – Rough & Rugged
28. Super Cat – Boops
29. Super Cat – Vineyard Party
30. Maxi Priest – Wild World
31. Admiral Tibet – Leave People Business
32. Super Cat – Cry Fi Di Youth
33. Rita Marley – One Draw
Download
"vol. 2"
...and I went ahead and dug up the first one for you.
Frank_The_Butcher_and_Jack_Frost-More_Fiya_(Classic Reggae_Vol._1)-2011-FTB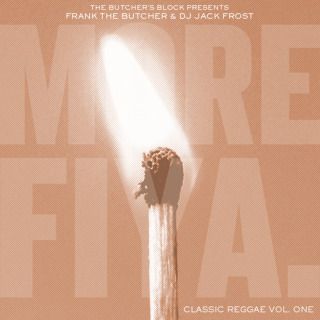 1. Bob Marley – Natural Mystic
2. Junior Murvin – Police & Thieves
3. Jacob Miller – Tenament Yard
4. Michael Rose – Stalk Ah Sensi
5. Eek A Mouse – Ganja Smuggling
6. John Holt – Police In Helicopter
7. Barrington Levy – Under Mi Sensi
8. Musical Youth – Pass The Dutchie
9. Black Uhuru – Guess Who's Coming To Dinner
10. Bob Marley – Buffalo Soldier
11. Dennis Brown – Get Myself Together
12. Barrington Levy – Murderer
13. Half Pint – Greetings
14. Supercat – Under Pressure
15. Ini Kamoze – World Ah Music
16. Gregory Isaacs – Night Nurse
17. Dennis Brown – Here I Come
18. Yami Bolo – True Love
19. Cocoa Tea – Tune In
20. Johnny Osbourne – Little Sound Bwoy
21. Eek A Mouse – Ah Wah Do Dem
22. Tenor Saw – Pumpkin Belly
23. Wayne Smith – Under Mi Sleng Teng
24. John Wayne – Call The Police
25. Johnny Osbourne – Buddy Bye
26. Lady G – Nuff Respect
27. Jc Lodge – Telephone Love
28. Gregory Isaacs – Rumors
29. Johnny Osbourne – Reasons
30. Sister Nancy – Bam Bam
31. Yellow Man – Zunguzeng
32. Dennis Brown – Revolution
33. Junior Reid – One Blood
34. Barrington Levy – Here I Come (Broader Than Broadway)
35. Barrington Levy - Black Roses
36. Tenor Saw – Golden Hen
37. Yami Bolo – When A Man's In Love
38. Tenor Saw – Ring The Alarm
39. Johnny Osbourne – No Ice Cream Sound
40. Reggie Stepper – Modelling
41. Red Dragon – Good Hole College
42. Ub40 – Red Red Wine
43. Pinchers- No Ice Cream Sound
44. Inner Circle – Bad Boys

45. Culture – Jah Jah See Dem Ah Come
46. Pinchers – Bandolero
Download
"vol. 1"
Mick_Boogie-IlladelphMatic-2012-UC
This just dropped and is catching a ton of buzz. If you know one thing about Mick Boogie, is that he takes what he does seriously. He has over 20 free releases out floating around and has yet to put one out that is weak. Also check out his new CD done for Fashion Week
"Sounds from the Front Row Vol 5."
Download
"Illadelphmatic"
Ruby_Hornet-Dear_Heather_feat._Action_Bronson_Rockie_Fresh_
and_Macie_Stewart-CDS-2012-UC
Taken from
Ruby Hornet's Closed Sessions series
. Nice track to light up and cool out to. Nice to see all this great music coming out. I predicted it a few years back on this here blog that the "real" music will eventually prosper. It is coming true.
Download
"dear Heather"
Action_Bronson_and_Riff_Raff-Bird_On_A_Wire-CDS-2012-UC
Action Bronson teams up with Riff Raff for this joint with production by Harry Fraud. This is something different from him though. Riff is not really my style, but it was cool to see Dirt Nasty ALC and a few other cameos.

Download
"Bird"
Nas_and_French_Montana_Live_
@_1Oak_NYC_(NY_Giants_Superbowl_Afterparty)
Nas killin a few classics before it's handed to French Montana filmed live after the big game.
Peep how only God's son can rock a link and a tux and get away with not being on anyones worst dressed list.

Prodigy-I'm_From_The_Trap_feat._French_Montana-CDS-2012-UC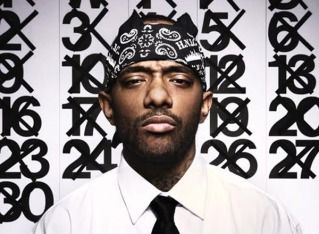 H.N.I.C 3
is soon to come blast us in the heads. These are the first 2 leaks of the project that is set to feature the usual suspects on production. You know the drill.
Download
Prodigy-Great_Spittas_feat._Corey_Gunz-CDS-2012-UC
You gotta love this dope pic.
Download
The kid looks just like him tho.
easy.