The_Vinylcologist-Vinyl_for_Mayer-(An_Arrangement_Even_Stranger)-2011-UC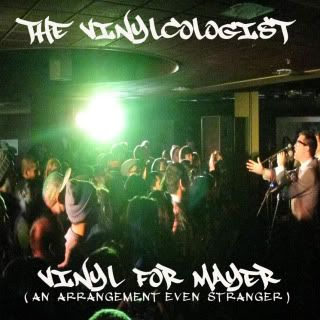 The Audible Doctor isn't the only one that can remix albums now, com'on son.
All beats made in 20 minutes or less.
Entire project finished in 2 days.
Sat on it for a week.
FOR PROMOTIONAL USE ONLY
Tracklist and Press notes:
01 Prelude 02:16
02 An Arrangement Even Stranger 01:39
03 Still Ain't Gonna Work Out 03:16
04 Maybe Yo 02:27
05 Easily Loved 02:34
06 Dancing in the Rain 02:56
07 Made Her Mine 02:18
08 12 Track Mind 02:55
09 The Illest 02:36
10 Crispy and New 02:43
11 In the Loop 02:47
12 Green Eyed Thug 02:51
TOTAL 31:18 min
Download
"An Arrangement Even Stranger"
The Vinylcologist
comes out of nowhere with this tribute to
Mayer Hawthorne (Stonesthrow)
made strictly from his Strange Arrangment album. After hearing it again a few years later Vinyl decided to make a beat out of every song while paying tribute to the soul superstar. He wanted to make sure that this was done unlike any other tribute to Mayer. He used the full length LP (not the instrumental album) and added samples and cuts from other well known records that happened to be out already laying around his studio. The result was a wonderful set of instrumentals that any emcee, dj, or producer could appreciate. For more info on The Vinylcologist and his beats, check out his in progress discography.
http://thevinylcologist.blogspot.com
follow him on twitter
@UNITEDCRATES
or check his week to week blog
Dusty But Digital
http://jacknvinyl.blogspot.com
Soul searching.