Due to the extreme amount of Yankee's fans moaning and complaining, I must apoligize for the scoreboard post. I figured that the best time to kick a Yankee fan is when they are down. Like the guy above. Sorry guys, I didn't mean to be blunt, or rude, I just wanted something to laugh at when smogging the blunt being rude.
On the other hand, my squad can keep a good record to save thier life. The best thing to happen to them since beating the Yank's is me writing about them in this blog. You can send the checks and the free throwback jerseys through paypal, guys. Remember tho, "Eveybody hates Jack Byrne, Jack Byrne!!!!"
Here's a beautiful shot of Jacob's Field. Someday I will visit it soon and attend a game. If I'm lucky it may be against the Yank's and we will give them some competition. They are a great franchise to watch after all. Especially when they have some trouble against my team.
Sorry again guys, this is the last time, I promise. I'm just mad that the
Indians
will probably not make the championships again. Fuckers' are in second to last place. BOoooooooooooooooooOOOOOoooooooo!!!!!!
"Gone But Not Forgotten"
UPDATE
:
I worked on the finishing touches of this disc all day yesterday and will be mixing it down shortly. The second disc hasn't even been started yet... you think that it will be ready by the end of this month????? As long as I minimize my interruptions during these next few weeks I will have both discs for sale on the release date.
Mixtapes
rarely ever get pushed back and I don't wanna be the first to do it. Although, it could create more hype for me and the camp, I'm trying to make this dough. Tee's are also on schedule to be released with the double disc. I will update you yutes later in the month.
QUESTION???????
Will the turntables of tommorrow replace the standard of today?????
There is no doubt that the cd/mp3 revolution is slowly taking over in pop culture. With music being so easy to get a hold of nowadayz it a wonder if artists will continue to put out records and singles. I still will hit the record store (never music shack, fucking ripoff addicts) from time to time and spend about $100 or so on some instrumentals or acapella records. The regular albums are too easy to get a hold of off the computer to waste money on them. OK, OK, if the album is a classic, meeting all my standards to qualify as a classic, I will usually buy it. It has to be able to be played from the beginning to the end without skipping songs. That's just one of the standards. So this means that there are no songs on the record that are "played out". These DJ's now think that because they have three booklets of burned cds and the hottest new cd turntable, that this makes them a DJ. WAKE UP FUCKFACES!!!!!! You are all gay ass meatheads and all suck
Griswold dick
. It's ok to use these CD tables from time to time, for hooks, etc...but to claim that you are real DJ. Gimme a break buddy, before I give you a break... to your friggin' head, you imposter of impotence.
Since vinyl is making a comeback certain companies and labels are embracing this buy putting out limited edition material.
Stones Throw Records
has released a slur of 7inch and 45's that are gaining popularity overseas and in the states. The retro boom is large, so large in fact that people are even going to great lengths to find old
jukeboxes
and fill them with old 45's. Also, underground hip hop labels are making it almost a commidity to release at least one piece of rare wax. This will ensure that thier label will be talked about many many years from now. So to answer the question above,
NO
, these turntables will not. CD's will never have the sound quality of vinyl because of compression and other problems with converting the medium of music. Plus, CDs will never be able to be mixed the same way vinyl is. It sounds cheap and doesn't pick up all the sound it should, not to mention there's nothing like catching an acapella on vinyl. My advice is to get you vinyl collection going, but only with classics. These will be worth a ton if they are in mint condition. Keep dem sleeves boner.
Sorry mate, buta who is dis fat woman we 'bout to blast????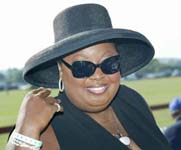 Star (dubchin) Jones...The fat hoe we all love to hate.
After she gets a perm, the whipped cream has officially been put on top of the dogshit sundae.
------------------EYE CANDY----------------- --O-o--
She still looks real dope for being as old as she is. Would you still tap dat?
Peash.