Glass_Ceiling_Effect-Rule_Number_Four-CDS-2011-UC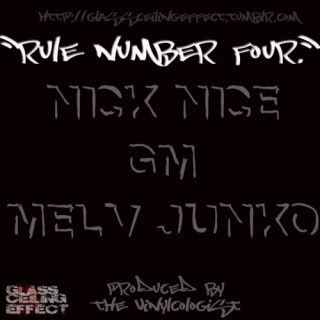 I made this beat in late 2003 and kept it on lock till I felt it was right to let it go.
This was the result. Don't ever take for granite the concept of timing. Ever.
DOWNLOAD
"rule number four"
The_Chronicles-Purple_Diesel-EP-2011-UC
The Chronicles
are a
Jazz
Fusion
Progression
that are making a name for themselves by pushing the limits of music. They recently helped kick off
The Brooklyn Hip Hop Fest
playing behind
J-Live
at Brooklyn Bowl. I was lucky enough to be invited along for the ride. I took a few pictures and videos of the show. Enjoy
1-the summit
2-rain drops
3-purple diesel
4-suburban grind
5-tri umph
Download
"
Purple
Diesel
"
PHOTOSYNTH THIS IS
Load in, Set up, and soundcheck.
The set list.
Diggin and shopping for gear around the corner. Many gems in that spot.
We took a walk to the the park to spark and chill, and saw this drizzle art in the street.
A ton of talented people down there. Check out the detail.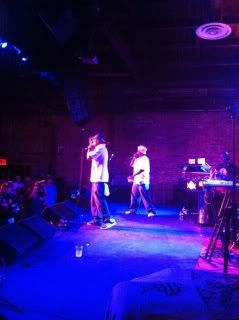 "
The Artifacts
are from the...."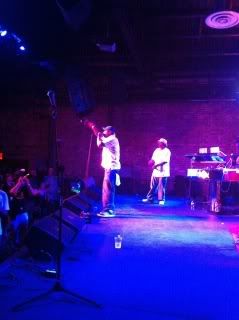 "...wrong side."
The crowd at
Brooklyn Bowl
. So sorry about the light. God came to take the wack emcees to their final resting place.
J-Live soundcheck with The Chronicles
The acoustics in the place sounded so good. I did miss the crowd noise in the background though.
You won't find this on 2dopeboyz, prefix, hip-hopdx, or any of those other sites, until they steal it from mine. We don't drop bombs, we just sit on shit till we feel like releasing it.
J-Live getting the crowd involved....
This that slow to fast shit. Great turnout for a Monday. the Jack Daniels Honey was flowing all night.
Brown_Bag_All_Stars-The_Agenda_(Marco_Polo_Remix)-2011-BBAS
Here's an older
BBAS
video that has some ill cinematography.
Marco Polo
and
Element
laced the backbone to this track. #SALUTE
KILL WHITEY.
(no not Mr. Bulger)
Tosh had a clip of this video on his show.
This is the remix...
Jeeps pump this new remix...
Rrrreeeeeemmmmiiiiixxxxxx!!!!!
OH MY GOD...
If you are a fan of
A Tribe Called Quest
and/or
Michael Rappaport
, treat yourself and go see this movie. Grabbing my tickets this weekend. Who's with me?
I've heard nothing but good reviews from even the toughest critics.
....and if you like that
"i know you gon luv thisss"
(in my dj battle record voice)
Mick_Boogie-Excursions_(Rarities_and_Remixes_of_A-Tribe_Called_Quest)-2011-UC
After dropping the
"Summertime 2"
mixtape with DJ Jazzy Jeff,
Mick Boogie
returns with a tribute to one of the greatest hip hop groups in history.
Download
"Excursions"
I'll leave you with this...

Roc_Marciano-Jaws-CDS-2011-DECON
Here's the Itunes Exclusive track from the new Greneberg EP out on DECON Records.
Produced by Oh No.
The whole project is dope, be sure to check it out.
....and here's the original sample. If you listen close you can hear all the sound that were used in this beat.
Download
"Jaws original"
No sense in beating a dead horse. I got all you other bloggers beat.
Stop talking shit.
1.