This short on vinyl is real tight. Some heavy collectors, nice backdrops, and of course you know I've already sampled the vinyl soundbytes. Couldn't help myself. Hey, collectors are allowed to have fun too. Follow
VINYL
and all things about
VINYL
on Twitter-->
@UNITEDCRATES
Herbie
Dilla
Cube
Hov
If you want to have something that is a one of a kind thing. Invest in some
vinyl art
from Daniel Edlen. Shadowed images make these records a limited item and look very official. You can even send records and have him post the artist image for you. They will be more likely to bring in more money. If he asks where you heard of him, just big up Dusty But Digi.
STICK 'EM UP
(
on the wall that is
)
Just try and find another one.
HAAAAAATERS
FRAMES
Primo checking out the new line of Cazal Hip Hop Sunglasses. Cop you a pair
HERE
.
Don't be fooled.
Sumbliminals are everywhere. Be aware and don't fall victim to the slavemasters.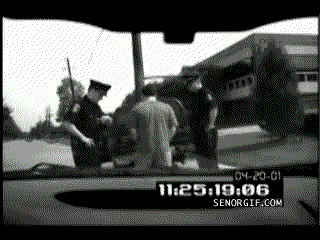 I wonder why they were just watching him. That's pretty gay.
DONE.