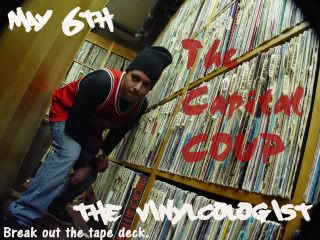 So for the past couple weeks I've been filling in spinning on my friend,
Dee Jay Tone
's radio show and having a blast doing it. My brother and I had a conversation recently about how I don't get out to promote enough. This week I will be spinning for
Lofi Lobo
and Tone, which means that for the whole block this
Friday from 10pm-2am
, your boy will be blessing the tables. Lobo's show
The Capital Coup
showcases the vast array of music coming out of the 518. I will keep with the show's format, but while doing that I will be playing some extremely rare unreleased tracks from the early
518
days and current non released material, live blends, freestyles and remixes. You will not hear the majority of this music anywhere else. Lobo and myself have been working on trying to schedule this for a long time and the time has finally come.
Come back to the blog and click
this link
to the live stream on Friday.
For the following 2 hours on Tone's show, it will be a mix of more exclusive tracks, (both industry and upstate), and whatever we feel like bullshitting about. I'm sure the usual suspects will be there as well. Check the link to last weeks show w/ Tone and the FWORD Gang.
HERE'S THE LINK
WCDB 4.30.11 1am-2am
See ya Tomorrow.