The Old School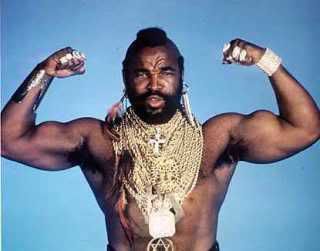 Mr. T
The Originator.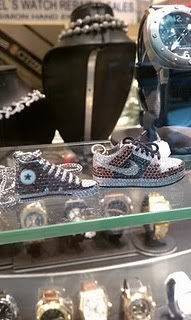 Random Jew Ree Stoe
That dunk charm is too ill. I wish it was the Heineken Dunk tho.
Run DMC
The Kings of Rock.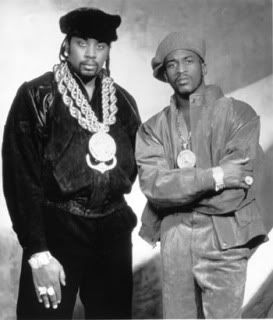 Eric B. and Rakim
Follow the leader.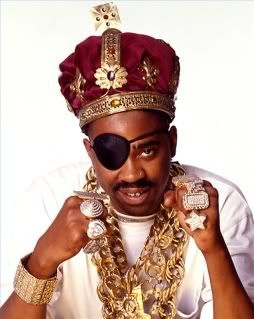 Slick Rick
(the ruler)
Behind Bars
is an instant rewind in my book. Understand.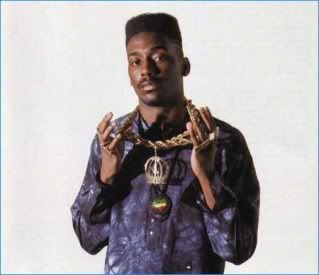 Big Daddy Kane
(smooth operator) Do me a favor and play this song and tell me this shit isn't the truth. This is the shit I'm bumpin when all these other assholes are worried about these fake ass fudgepackerrappers on the radio.------>
BDKsong
Check out the African leather suit when he drops the third verse.
Biz Markie
(early days) Never forget... where we come from.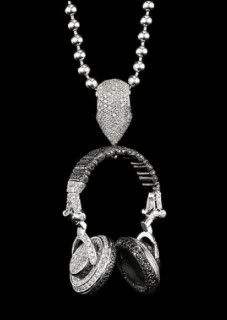 Biz Markie
(present) He must of copped these after he got that check from Yo Gabba Gabba.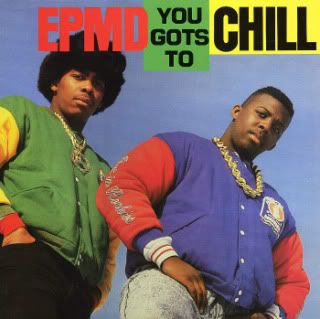 E Dubble and Parrish
(EPMD) No Pressure. Scratch bring them back! Please!!!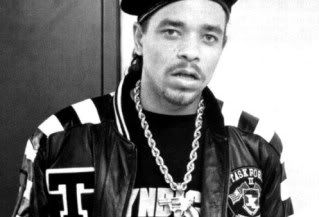 Ice T
(the iceberg) Original Gangster. In my top 10 best albums of all time.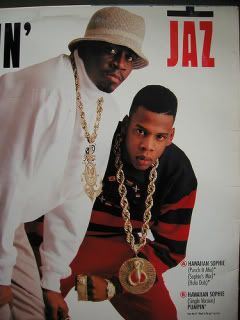 Jay-Z and Jaz O
(Hawaiian Sophie cover) I actually scanned the back of this record to get that picture.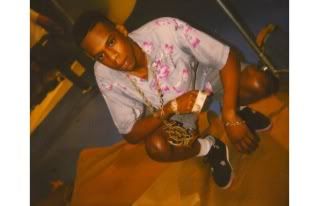 I think Nas had a line about this in
"Ether"
Find it yourself.


The New School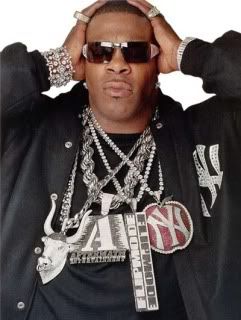 Bussa Buss
(early)
Stay tuned.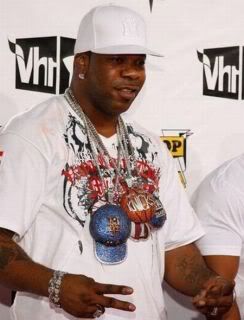 Busta
(present) Blaaadowwwww!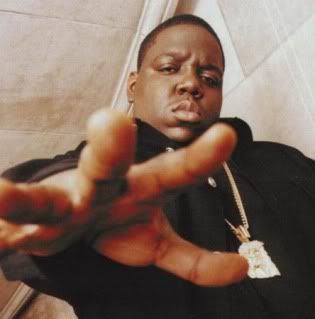 Biggie
(the notorious) Born again in this post.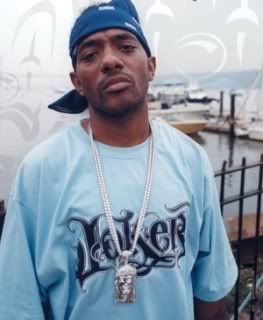 Prodigy
(P) Just got out the pen. Finally someone to relieve me of my duties of holding it down.
Raekwon
(Immobilarity CD cover) this album was slept on, too classic. Shaolin VS. Wu-Tang dropping in March.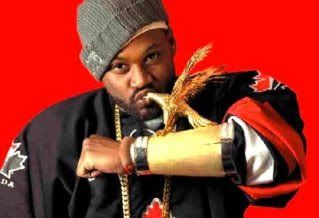 Ghostface Killah
(Tony Starks) Every album is a heater. Do the knowledge. They just get better.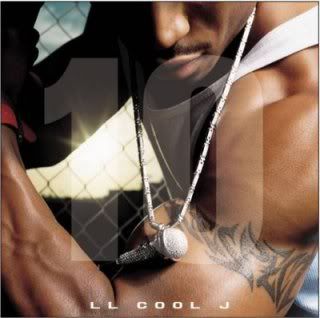 L.L. Cool J
(10 album cover) ...Canibus can't rip that tat from the arm.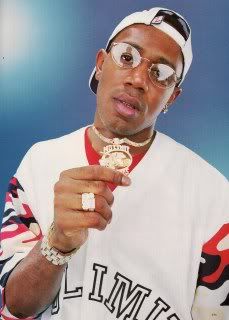 Master P.
...don't sweat his small chain, remember homie has a solid gold tank in his foyer.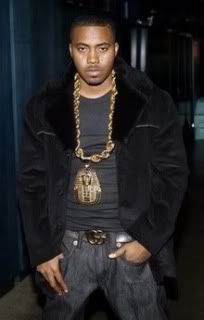 Nasty Nas
(earlier) a lyrical legend.
Nas
("N" album promo chain) ...someone give this guy some good beats already.
Just Blaze
(early jumpoff) ...a producer for the ages.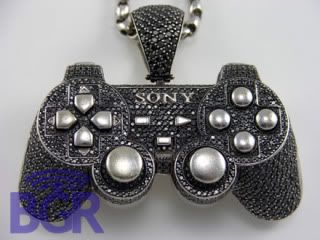 Just Blaze
(new jumpity) ...dude's a heavy gamer.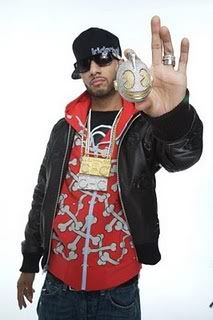 Swizz Beats
...smartest thing he ever did in music was marry Alicia. Oh, and produced
Banned from TV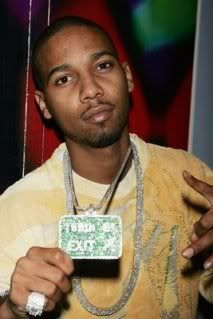 Juelz Santana
...paid his dues, he deserves respect.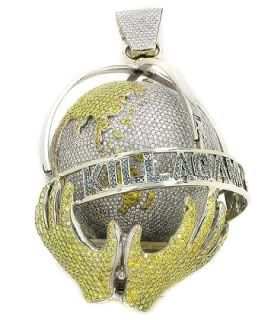 Cam Ron
"Killa"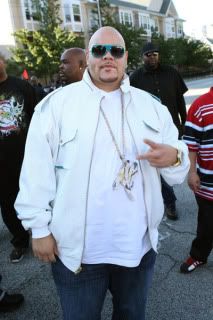 Fat Joe
(Terror Squad) ....if you are reading this please quit that weak commercial shit and "flow Joe"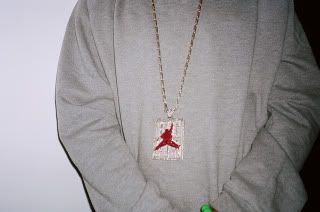 Big Pun
...obviously that isn't him wearing it.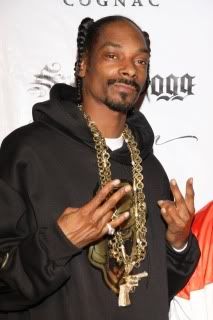 Snoop Dogg
...red carpet shit.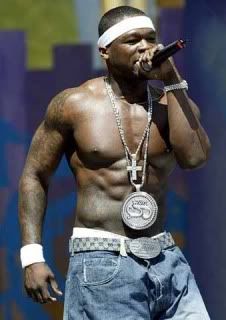 50 Cent
(debuting the spinner chain)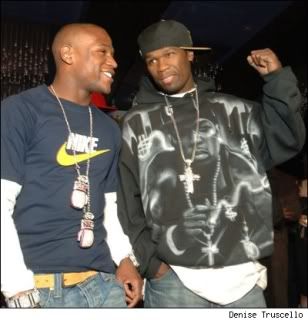 Floyd "Money" Mayweather
and
50
...one of the greatest boxers to ever put on the gloves. I can't say the same for 50 though. Who wears an airbrushed hoodie featuring themselves? I'd feel like a dick going out in public with that on.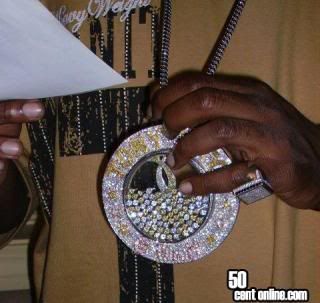 Tony Yayo
(present) Still ridin' the G-Unit wave I guess.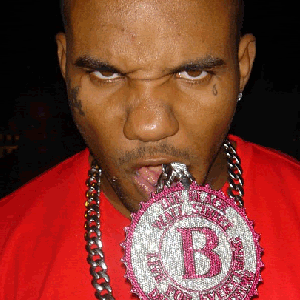 The Game
(money stamp)
The Game
(og logo) ...this dude is the truth.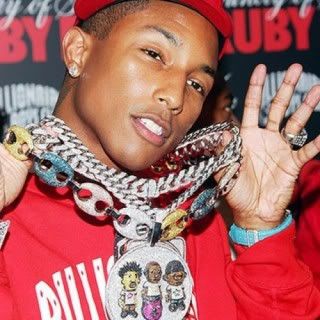 Pharell
(Nerd medallion) ...still have yet to hear one good Nerd song.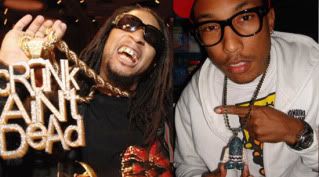 Lil' Jon
and
Pharell
(original fake chain) ...I should post that high school pic again just to be an asshole.
Juelz Santana
and
Lil Wayne
I remember when Lil' Wayne was a backup dancer for Juvenile. Times have changed.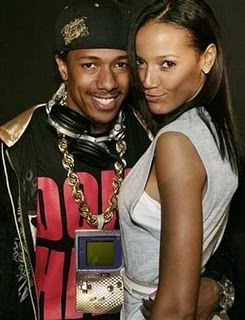 Nick Cannon
(game boy...that actually works.)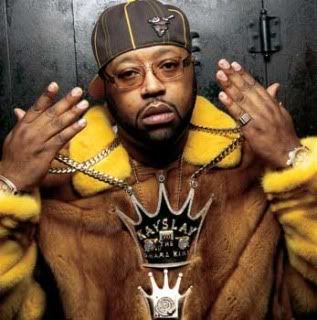 Kay Slay
(aka scream over the song and ruin it.)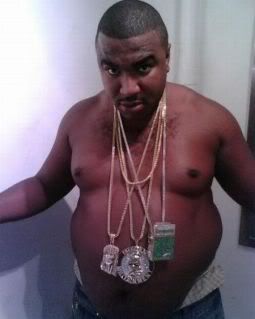 N.O.R.E.
...on next seasons biggest loser. Hopefully.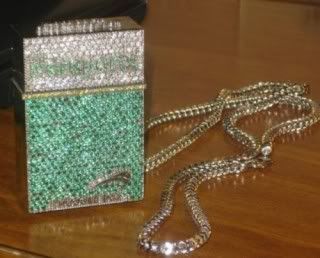 N.O.R.E.
A closer look.


Should've Been Schooled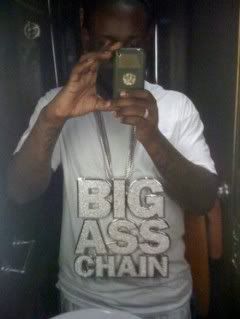 T-Pain
...Cher used auto-tune first muthafucka. If we could turn back time.
Yung Berg
...if i see one more guy the name yung, lil, or eezy in their name I'm going to become the first serial killer to target cornball rappers.
Teriyaki Boyz ...still don't know who the fuck this is. Not even worth highlighting his name.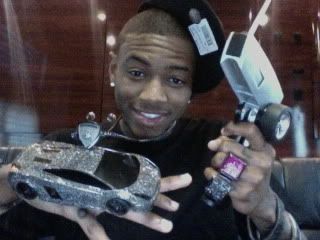 Soulja Boy
" ...out sold ya boy."
I can't wait for him to go Fantasia with his dough.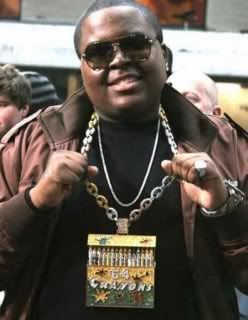 Sean Kingston
...don't be fooled, I'm sure he gets no ass. That is unless it's 8 year old's looking to do some coloring.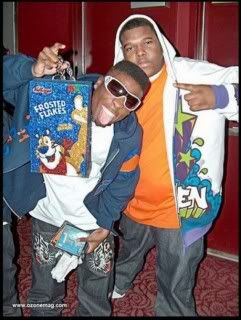 Skool Boy
...again, clueless. Someone rob these frosted fakes.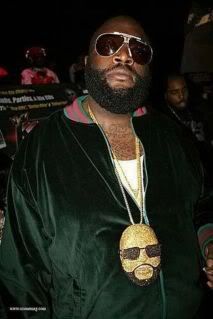 Rick Ross
...my old hall monitor ain't suppose to rap.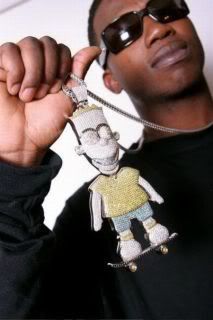 Gucci Mane
(bart simpson) BMF bought him dat chain.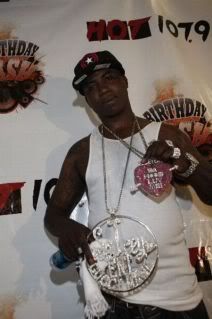 Gucci Mane
...boooooooooooooooooooooooooo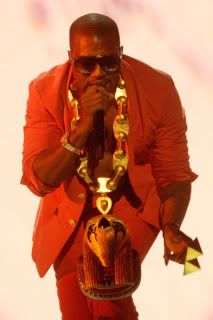 Cornyay West
...on the new J. Bieber record, need I say more? Doin' big thing this year.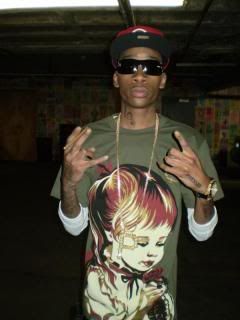 Wiz
(wack n yellow) ..nah dog it's Black and Silver. Oakland all day ninja.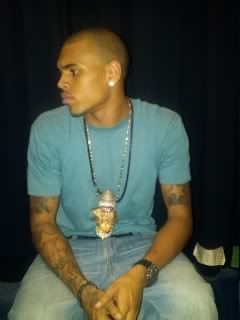 Chris Brown
(spray can)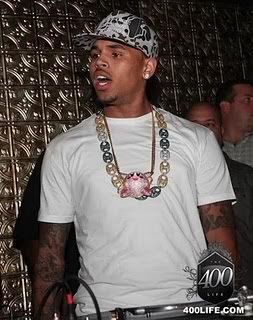 Chris Brown
...is that is Pokemon or Kirby? Both are straight fagish. Not sure if this was before or after the beating. How bout the blogger just tryed to spellcheck fagish. Radiorap was one of the suggestions.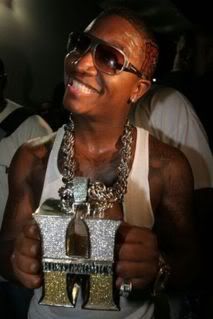 Yung Joc
geezuzchrist!!! ...another Yung. Bout to change my name to Yung Old Lil' Big Wigga just to get my gold chain on and a record deal with a weak label thst will shove my music down the throats of minors with disposable income.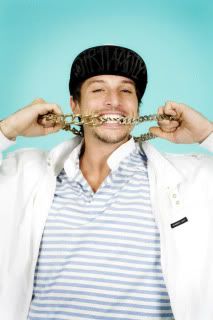 Dirt Nasty
Hey ladies... Fuck him... he still isn't famous.
Some Random Clown
This better be a Halloween costume. I'm guessing that his chain is spray-painted and that's the hubcap my pops lost off his Buick back in '89. He loved that car.
This shit is sick.
The Joker
This shit is classic.
"He OG'd"
I've been in this game for a minute, a long minute and had to put everyone up on what exactly has happened to hip hop. It's isn't about skill anymore, it's about how much of a clown you can be and how much attention you can get by being that way. I'm not saying that I wouldn't jump at the opportunity to own any one of these chains. What I am saying is if I did get the opportunity, I'd hit up Chumlee in Vegas and get my pawn on. Have some fun and take a trip back in time when hip hop was hip hop and wasn't watered down with all this melting ice.
"Fake emcees, they always act hard, but won't walk the streets without their bodyguards.
" -Guru of Gang Starr
Pay Homage
RIP.
#NowPlaying
Big_L-Furious_Anger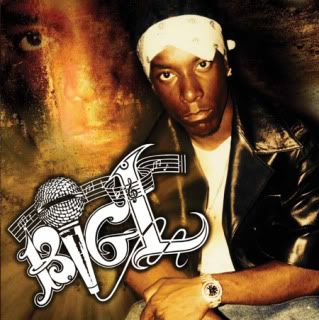 It's hard to say what they game would be like if Big L was still alive today to rip up mics. 12 Years ago today we lost the best musical mind to ever put a pen to a pad. I have to honestly say that this is, and always will be my favorite emcee ever....of all time. I would've love to hear his take on the idiots in the industry today. I'm sure that there would be a song out called H.O.M.O.s that stood for Horrible Overconfident Mediocre Others. Produced by Buckwild or Diamond D, getting spins on radio stations across the country. This day every year I play a string of my favorite Big L joints... I've included a link to a great CD that is a must have for any Big L fan or collector. It has a number of rare joints and some that I'm sure you've heard, but they are cleaned up better than expected.
Big_L-Return_Of-The_Devils_Son-2010-CMS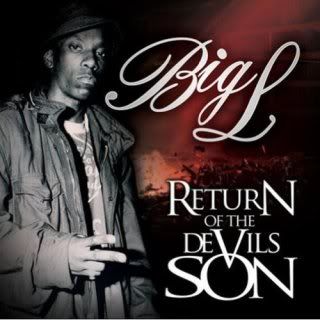 tracklisting
01- return of the devils son [01:48]
02- devils son from lifestyle [04:01]
03- zone of danger [03:40]
04- sandman 118 [02:56]
05- schooldays [03:16]
06- principle of the new school [03:55]
07- unexpected [03:37]
08- tonys touch [01:57]
09- right to the top feat royal flush and kool g rap [03:28]
10- once again produced by j love [03:32]
11- harlem world universal [01:22]
12- i wont [04:01]
13- hard to kill [02:12]
14- power moves [04:01]
15- if you not aware [03:45]
16- i should have used [04:27]
17- doo wop #5 [01:32]
18- yes you can [03:56]
19- audition [04:49]
20- m.c's whats going on [03:47]
21- slaying the mic [01:53]
Download The Return
Until next time, you know we stay beemin you bitches from a far.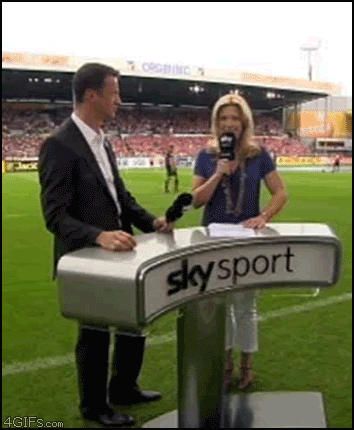 Ouch.