get yer dig on. We do! Everyday.
Those... in a size 10 1/2...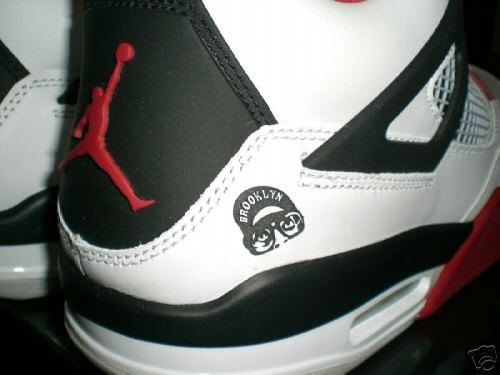 Recently
NIKE
released thier newest version of the AIR JORDAN IV. These are the "
Mars Blackman
" edition or as some people are calling them..."the urkel's"....and if you are lucky enough to find them in the US be ready to wait in a long ass line. That is, if you aren't buying kid's sizes. It seems like every time a new Jordan comes out
all the men's sizes are gone before they even hit Eastbay. Just goes to show ya that you have to be on your sneaker game all year round. My boy Ev Boogie (
Evil Empire
...NY's down south music supplier) said that he waited in line for almost 3-4 hours to get a couple pairs when he was in France a few weeks ago. I asked if he thought they would ever make it to the states and he figured probably not. Bottom line...who'da thought that you'd have to take a vaca over seas to cop a hot pair of kicks. gee wiz paw.
A NIGHTY NIGHT IN SARATOGA...
For all of you who are true boxing fans, this should be a good oneor two, or three for that matter. A heavyweight fight night featuring Troy's own Shannon Miller VS. Chicago's undefeated Malachy Farrell. On the same card, more action...Saratoga former crusierweight Gary Wilcox will test his endurance and stamina against Vinny Maddalone. The early match will be Albany native Wayland Willingham VS. downstate's Brandon Mitchem who has a 24-4 record including 8KO's. There will also be another match soon to be disclosed.I'm seriously considering getting a front row seat to this one... and now a few quick words from Pugnatious....
"We're happy to be promoting another high-quality show in Saratoga with Star Boxing," said promoter Lisa Elovich, Pugnacious Promotions. "Having four exciting and crowd-pleasing heavyweights on the same card will give fans a thrilling night of boxing."
Click here for ticket info.
I got my money on the
white
dude.
.....8.......9......10!
"the witty unpredictable"

Inspectah Deck is set to release the disc we've all been waiting for...well, except for the last two tracks. His new album entitled
The Resident Patient
is such a better album than
The Movement
. Movement wasn't bad at all, it's just that this is as close to an uncontrolled substance as it will get. Going back to his roots of rhymestyle, Deck handles the mic professionally and has hard hitting beats surround and accompany him all throughout. I'm sure either himself, the Rza, Mathematics produced some of the bangers on there. Get this shit, there's even a jacked instrumental from Yak Ballz first album entitled "c.r.e.e.p.s."...I mean you can even hear the crowd chanting "YAAAAAK BALLLZ" in the backround which was taken from a show he did in New Paltz, NY a while back. My question is... did Inspectah just jack it, or is Mondee (yak's producer) making jawns for the rebel ins???? ...and if so, then is Yako gonna have a collabo in the near future? I'll get back to you with all the info, cause I'm curious as hell.
POET HAS COME!

Blaq Poet has just dropped his debut disc featuring production by
DJ Premier
, The Alchemist, Easy Mo Bee, Himself and a few others. He stated that this was a mix of all his verses from the past along with some new stuff. He thought that since he's been under the radar for so long some people may not be as familiar with his works. This project is a cool collective of what the key member of Screwball has to offer. Buy it! Only then will you be able to judge it for yourdelf. We don't give ratings, or review for that matter. You should just know that if I'm talking about it and spending my time posting something that it is worth going to cop. I wouldn't lie motherfucker.
Ohio Dogs On Top.
After all the bullshit that has happened between fake friends, corny promoters, weak comeback disses, Copywrite continues to prove why he is one of the best that's ever done it on the underground scene. The new DJ E-V -
ODOT Takeover
mixtape is in heavy, and I mean Marty Mcfly heavy rotation in my deck. I'm glad that this cat doesn't let anything take away from the fact that he knows he'll run circles around fools lyrically. Hopefully one day in the future the O. Ill and ODOT will collabo on a track. That would be something for the masses. Cat's think they throw nice punches, but thier punchlines are better off left unwritten. Go Copy! Can't wait hear more of that real shit that these stale fucks only wish they could think of.
Ok its time for the shit you really want...
Free Vinyl Tracks Of The Week!
-DJ WALLY-
Something in Those Trees
.
-RAEKWON-
GZA shit
-LUDACRIS-
Tell it Like it is
(another T.I. Diss)
-NAS-
Where Ya'll At????
...and also, you know that the Vman always get the exclusive dopeness. Here's some more schmoove instrumentals from our friends at Origin Ill Inc.
The Orphans - audio
live from Lark Tavern
. Believe me...you don't have it fuckface.
What time is it?????
It's Post Time... Time for Enchantment, Excitement, and time for your punk ass to gamble all yer dough on a horse named POTSMOKE. If you are a leather tanned mexican that's feet stink like bbq fritos, they have a position for you. They strive on being an EOE.
C-ya nextime. I gotta go get my Grolsh on.