Aight, time to do my weekly bitching. This we should be real easy, starting with this ASSHOLE. T.O. What a fuckin' douchbag, huh. Last season he couldn't get along with his team, his coach, and even himself. So what'd they do, what anyone who is smart would do, ...traded him.
Now, this clown goes into the first week of football with the Cowboys and can't catch a pass to save his hyde. What's his excuse????? Apparently he had sprained, or, broke, or whatever dickheaded his finger. So I guess that's why he couldn't receive for any yards. Now, this week, he is in the media again. What a fuckin' joke this guy is. Some story about how he almost overdosed on pills leaks out to the press. Then he's comes to the conference and claims that it's all bullshit. Now all the sudden everything is great in week 4....I mean seriously, get off your own dick man. I'm so sick and tired of hearing about T.O. I just wish he would've OD'd on shit he took, but really... we couldn't get that lucky. If that was the case I'd go play mega millions tonite. I always say the same thing about Owens... "If it ain't the T.O. show, It ain't no show." He is a bigger attention whore that Janet at the SuperBowl. Fuckin' dick. Get your shit together or I'm gonna hire Haynesworth to flashback to last weeks game and stomp on that superdome you call a head with his cleats.
Go hang with your boy Shay Hillenbrant and swallow his next seed fuckface.
I Know You Got Soul...

Pete Rock is still at it working on a new album, along with a boatload of other projects. He has just released "Underground Classics", a collective of some of the greatest remixes he's ever composed. Keep a watch on this guy, he'll hit us from every angle and then some. Here's a video of his makin' beats and a fresh track for those eardrums.
CHECK IT!!!!
The best that ever did it.

VINYL

&

ED POWERS
(brotherly advice)
Vol. 1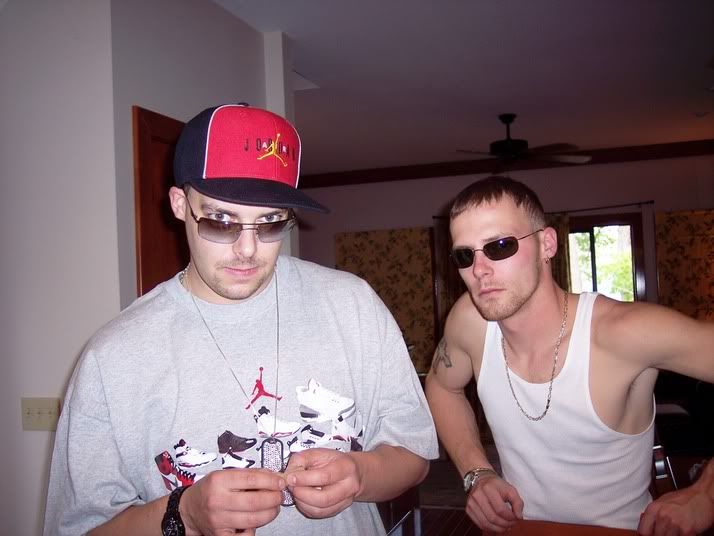 The new release from
Lost Poetz a.k.a. Animal Powers
is in the works. It will feature production from The Vinylcologist and his getaway driver Jack of All Trades. There is also a show coming up that will double as a Halloween party, and if you have that night off from your job at Byrne Dairy I suggest you go. It will be a night of fun, funnels, fun with knives, and funyuns caught in your gums. Now that's enough promotion for something that doesn't need it. Now go and get your ass a fuckin' J.O.B. wigga before I have to wreck your career with a diss track before you have a chance to start it.
Love,
Dads first nut.
Allah U Akbar
Hopefully the production will help, because I haven't liked Sadat since he tried to be Clint Eastwood.
Music by Funk Flex and Clark Kent. Click da icon for tickets.
Speaking of Shoefeddishes.
Clarks has released a string of new Wallabees with the craziest color and pattern scemes I've ever scene. They include, but are not limited to, Camo, Pinstripe, Quilted, and Plaid. This is why I love the fall. Jeans, hoodies, and wallys.
BushBusters...special photo segment.
YAK YA LATER
More music next time....
I swear.