I Just love makin' fun of this clown...It seems that he still thinks that he can hang with the best of them. In his
latest freestyle
he targets Nas and somehow left Jadakiss out of it completely... But that's probably mostly because I really don't think that he wants his ass handed to him again. His career is slowly coming to a close and by the looks of his new movie...it will be official. It really must suck to have everyone on your dick, and a short time later everyone hating you cause you suck. My question is...Why did it take everyone so long to realize this...I always knew that he was gonna become the next DMX. That's why I never got too hype over him, cause all those people that were like that when he came out look like complete assholes now. If you wanna jump on a bandwagon I suggest you contact the River Bottom Nightmare Band from the movie
Emmet Otter's Jugband Christmas
and stop fooling yourself....you know music about as much as
Mike Tyson singin' on the Jimmy Kimmell Show.
WE TAKE HITS FROM THE 80's... yeah yeah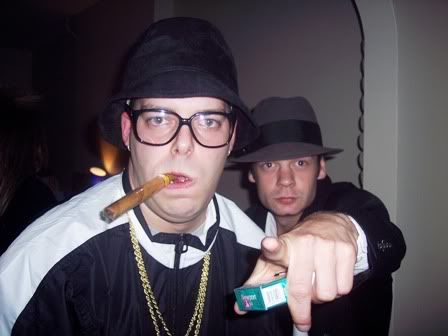 Well I'm glad to report that everyone in attendance to the
Back To The 80's
Halloween Party continues to boast about the great time they had. It was a fun night filled with
games
, alcohol, hilarious costumes, and
classic tunes
. We will be having another party for New Years, not sure if there will be a theme attached, but it's very possible. I'd like to personally thank everyone who came, spent thier hard earned money on costumes and helping us pay for the keg, and also the people who decided to not show up...it is because of YOU everyone had a grand 'ol time. lol. Some people in attendance were Debbie Gibson, The Top Gun film cast, Dr. Egon Speigler from Ghostbusters, Pinhead from Hellraiser, She-Ra, John Kerry and D. Trump, and the lost dancer that found her way there from Robert Palmer's
Simply Irrisistable
video. There will be many more parties to come...and next time we'll be sure to actually hook up the turntables.
Hired Gunz Stay On The Stealth Tip

.
Ok...first we said August, then we pushed it back to October...heads are still buggin the shit outta me...Now we are trying to complete the artwork to get this project out by the end of this month. Sorry to keep everyone waiting so long but perfection takes time. That's exactly the same shit they would tell you if you were waiting on chicken and vodka sauce from
Poalo Lombardi's
, and when you finally got it...you'd enjoy it that much more. Every suculant bite of it. Believe me, this disc is totally worth the wait and just to prove it...here's a little something off the
Puncture Wound Promo
, due out with a purchased copy of the cd. This joint features Smog first and Myself second. Enjoy it, and download it as quick as possible cause once the link is dead, I'm not putting it up again. This is a treat for my blog audence ONLY. I'm not gonna give you too much info, but there is some upstate fam on the official album and also cameos from Jack of All Trades and yours truly. Expected actual release date: 12/17/05...just in time for Xmas. Awwwww shit...now I know what to get my mom for Jesus' B-day!!!!
pUt ThE FoRk DoWn .......NoT nOw, BuT rIgHt NoW!

Fat women are always an easy target when it comes to crackin' jokes. I don't care about any other fat women...just Star "cellulitebrite" Jones. She recenlty has been fighting to lose weight and has, but the Lbs. are slowing creeping back. It could be that she's comfortable enough now to treat herself to a ham or three every once in a while, but really I've always hated this woman. Her face, her attitude, her way of acting like she is better than everyone, and the fact that she is lucky to even have to connects she does. Anyway, apparently Juelz Santana feels the same way about husky bitches. So much so, that he dedicated
a song
just to them. This shit will have you cracking the fuck up...but be on the lookout for any chunky hoes that may snuff you and take your
nuggets
and whatever sauces you think you have on lockdown.
Sorry you had to look at the above picture, but when I think of a fat bitch...Star Jones is always my first pick.....and since Halloween just passed heres some candy...some EYE CANDY.
UNO haters.