The set, which weighs 4 pounds, is housed in a premium, glass-top, "piano lacquer," 4-inch-tall black display case with gold-colored hardware, embossed white-on-black Raekwon logo and "The Purple Tape" placard on front
· Cassette only: actual Purple Tape (with full audio from original album), with multi-panel "J-card" fold-out featuring original cassette artwork
· 32-page, hard-cover liner notes book, including text by Brian Coleman (featuring an in-depth interview with and track-by-track reminisces by Raekwon); artwork from original Only Built 4 Cuban Linx album; and reprinted graphics from original Loud/RCA promotional singles
· Premium, glossy 24" x 24" promotional poster (from original Only Built 4 Cuban Linx 1995 Loud/RCA campaign)
· Only Built 4 Cuban Linx sticker
· Limited edition: only 1,000 copies worldwide, 50 with limited clear purple vinyl LP.
Only available online at
www.getondown.com

Follow them on twitter
@getondowntweets
Better get one before they are on Ebay.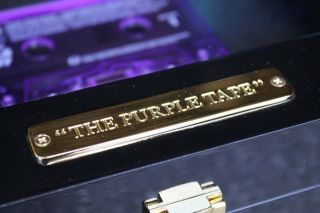 Why the tape was purple:
Raekwon:
"Only because that we be from the block, we was finagling in certain situations where the things that you was dealing with had to be separated from what everyone else was dealing with. I always ran with that as one of my traits in anything I do to separate myself from others. Back when we used to sling and do what we do, you would have different color caps (to viles). Certain color caps resembled certain people that were doing shit different than everyone else. It's like Yo, This is our color, anyone step on this color, you got an issue at that time. So I decided with my music, This is my world, my thing and I want to put a color on it just so everybody will know. That's how "The Purple Tape" came in existence. I think I had wanted a red one at first, then thought how somebody else had did it already. I made it like that specifically..."
Good Luck.